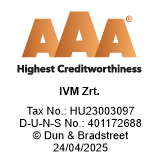 Welcome to
IVM Zrt.

-The storekeeper that never sleeps and never forgets!
A dynamically growing European industrial vending machine company.
Are you interested in a new business opportunity which:
gives your company a competitive advantage?
helps you increase your revenue with the vending machine business?
provides the perfect inventory system for external warehouses?
Our Products
Taking the lead in the industrial vending machine business
IVM develops and manufactures an extended portfolio of industrial vending machines (the SaveLog system). We have been in the vending machine business for 5 years and has been growing dynamically ever since. Being the developer and the vending machine manufacturer, we offer flexible solutions either for buy, lease or rent. Also being a Central-European vending machine company, we offer support from within the European Union, which gives us a unique advantage. More information on our systems: HERE.
How to buy a vending machine
There are several things you need to consider when buying (or renting) a vending machine. There are many companies in the vending machines business and their offers vary greatly. We put together the most important factors you need to think through before deciding on the type and number of the vending machines you want to buy.
Testimonials
Friendly and helpful staff, fast reaction time. The average decrease is consumption is 25%, but it reached 90% at certain products.The service provided by IVM is top quality. - Christian K. Poehner, Henkel
Besides the obvious cost reduction, IVM solutions ease the work of our logistic colleauge, and simplify the administration. - Johanna Sándor, Diehl Aircabin Hungary
Our Partners
Data protection
Read our Data Protection Policy HERE
For purchasers
Read our GENERAL Purchasing Terms HERE
Sales Contact:
sales@ivm.hu  
Purchaser Contact:
  +36 30 686 66 45
purchasing@ivm.hu